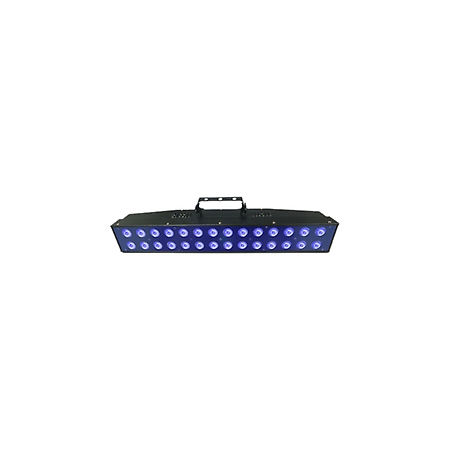 > UV Led BAR 24x3W
UV-LED28x3W
New product
24 LEDs of 3 Watts -

Suitable for a room up to 150m2

Discreet, powerful with a truly affordable price, Power Lighting's Utra Violet LED bars are the perfect solution for all your fluorescent parties.

Better than Ultra Violet bulbs, LED bars do not heat, consume very little and are very easy to install.

We recommend installing them in height for maximum effect.

Thanks to these LED bars from the POWER Lighting brand, this is the guaranteed success of all your fluorescent evenings, as they will best illuminate all makeups, accessories and other NEON decorations.
• ALL PAINTGLOW PRODUCTS (MAKEUP AND BODY PAINT) ARE:

- reflective under UV light
- compliant with EU cosmetic standards
- washable with water on skin and clothing
- manufactured in Europe (UK)
- not tested on animals
3 models available for all your needs :

Bar of 12 UV LEDs of 3W: suitable for a room up to 50m2
- Opening angle: 60 °
- Power: 40W
- Dimensions: 680 x 50 x 60 mm

Bar of 18 UV LEDs of 3W: suitable for a room up to 100m2
- Opening angle: 60 °
- Power: 60W
- Dimensions: 1000 x 50 x 50 mm
- Weight: 1.2 Kg

Bar of 24 UV LEDs of 3W: suitable for a room up to 150m2
- Opening angle at 40 °
- Power: 90W
- Digital display on the back for easy use, functions: Auto / Musical / DMX / Master-Slave / Manual
- Dim: 640 x 170 x 175 cm
- Weight: 3.5 kg