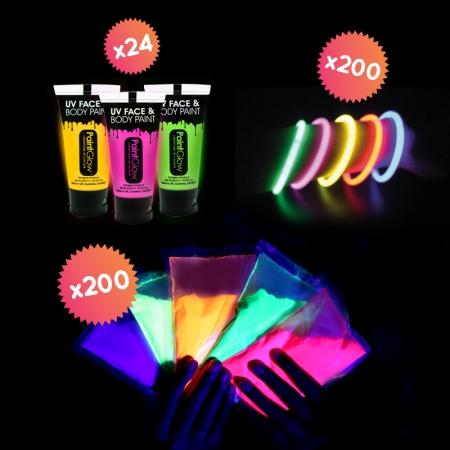 > HOLI NEON PARTY PACK FOR 200 PEOPLE
New product
Reference packholifluo200
Everything you need for a successful neon HOLI night for 200 people:
- 200 bags of UV Neon Holi powder
- 24 large 50 ml tubes of UV Neon makeup
- 200 neon bracelets
UV Neon Holi powder and UV neon makeup can be washed off with water.
Don't forget that our products must be exposed to black light (or UV - Ultraviolet) to glow in the dark.
Reference packholifluo300
Everything you need for a successful neon HOLI night for 300 people:
- 300 bags of UV Neon Holi powder
- 32 large 50 ml tubes of UV Neon makeup
- 300 neon bracelets
UV Neon Holi powder and UV neon makeup can be washed off with water.
Don't forget that our products must be exposed to black light (or UV - Ultraviolet) to glow in the dark.
ALL PAINTGLOW PRODUCTS (MAKEUP AND BODY PAINT) ARE:

- reflective under UV light

- compliant with EU cosmetic standards

- washable with water on skin and clothing

- manufactured in Europe (UK)

- not tested on animals
Pack content
2 x
96 pouches of FLUO UV Neon powder
This pack of 96 pouches of Holi FLUO UV Neon powder is reflective under ultra violet light (black light). This pack is available in assortment of 5 colors:
- 24 pouches: orange FLUO
- 24 pouches: yellow FLUO
- 24 pouches: green FLUO
- 24 pouches: pink FLUO
FLUO UV Neon powder is ideal for your FLUO, Full Moon Party and night-time color races!
This product is intended for the scenic and decorative effects of your events.
8 x
3 X 50 ML TUBES OF NEON MAKEUP
Ideal for all your neon parties, this set of 3 x 50 ml tubes of makeup is easily enough for up to 25 people.
This set includes:
1 x 50 ml tube of neon green
1 x 50 ml tube of neon yellow
1 x 50 ml tube of neon pink
This makeup is reflective under UV light.
2 x
100 glow stick light bracelets
Are you looking for goodies for your party? The glowing bracelets are THE goodies par excellence because they are unanimous! Indeed, this accessory is as popular with girls as boys, young and old, so they will suit everyone and always make their small effect.

The effect of these neon bracelets will make sense when these bracelets are illuminated in the dark.

Last but not least, the price! Indeed, the lot of 100 luminous bracelets is sold at a very reasonable price which will allow you to make a sensation without breaking the bank!
• ALL PAINTGLOW PRODUCTS (MAKEUP AND BODY PAINT) ARE:

- reflective under UV light
- compliant with EU cosmetic standards
- washable with water on skin and clothing
- manufactured in Europe (UK)
- not tested on animals