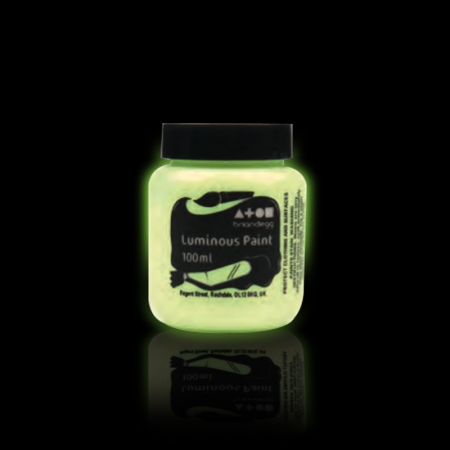 > 'Glow in The Dark' Paint
PAINT PHOSPHO
New product
This "Glow In The Dark" paint will allow you to create original disguises whatever the theme of the event.
Whether you want to turn into a skeleton or a ghost for Halloween, this phosphorescent painting will be ideal and you can let your imagination run wild.
Simply "charge" the phosphorescent paint to 'normal' light so that it shines in the dark.
Directions for use: this phosphorescent paint can can be applied to textiles and solid supports (wood, walls, concrete ...) with a brush.
The phosphorescent paint has the particularity of absorbing the light and then reflecting it in order to glow in complete darkness.
Capacity: 100ml
• ALL PAINTGLOW PRODUCTS (MAKEUP AND BODY PAINT) ARE:

- reflective under UV light
- compliant with EU cosmetic standards
- washable with water on skin and clothing
- manufactured in Europe (UK)
- not tested on animals